Obama Hangs With Gangsta Rappers But Gets Rolled by Putin?
Whatever Happened to President 'Punish Our Enemies'
What good is it for Obama to hang out with tough guy rappers like Jay-Z, Ludacris, and P Diddy if he is just going to project weakness on the world stage?
One minute Obama is linked up with Ludacris and the next minute he's being mocked by Russian officials. Some say Obama only embraces gangsta rappers when he needs to appeal to their fan bases to win elections. Either way, he has gone from being the first hip-hop President to America's Chump-in-Chief.
On the campaign trail it seemed like second nature for Obama to shoot venom in the eyes of his political opponents. In 2008 he had the gall to say things like, "If they bring a knife to the fight, we bring a gun" and 2012 he warned, "We're gonna punish our enemies and we're gonna reward our friends."
But when it comes to Vladimir Putin, Obama is emasculated.
He's had Obama's balls in a vice for months now. President Obama has given statement after statement and has made one empty threat to Putin after another. And in very short-order, Vladimir Putin has annexed Crimea by force, rigged their election, and probably has his eyes set on all of the Ukraine.
Meanwhile, President Mom Jeans can be seen shopping in the women's section of the Gap: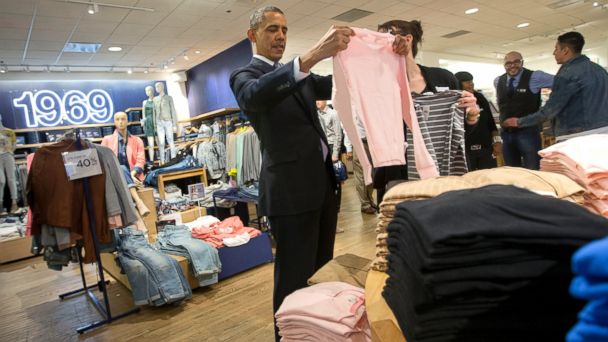 I'm sure seeing this makes Putin shudder.
In February Obama said Putin uses his "tough guy shtick" to get what he wants.
CBS:
I think that's where some of these perceptions come up," Mr. Obama said. "My sense is that's part of his shtick back home politically as wanting to look like the tough guy. U.S. politicians have a different style. We tend to smile once in a while. The truth is, with any interaction between U.S. and Russian presidents, what's going to be primary are the issues at stake, and where we have common interests we are going to work together.
Well, Putin's tough guy "shtick" seems to be working well. His government just unilaterally took over Crimea–which had been a sovereign state. That happened just minutes after Obama warned Russia against it, setting another one of his famous red lines:
Minutes after WH warned against further provocations by Russia, Kremlin announces recognition of Crimea as sovereign & independent state.

— Mark Knoller (@markknoller) March 17, 2014
Barack is all bark and no bite. He's all style and zero substance. Putin is reuniting the Soviet Union while Obama is off boasting his basketball bracket. Obama's Secretary of State John Kerry said, "We hope President Putin will recognize that none of what we're saying is meant as a threat, it's not meant in a personal way."
Putin pulled out his gun. Obama pulled out John Kerry.
Now, I'm not advocating for a military strike against Russia. But Obama's pussy-footing around is nauseating. We need tough talk, and more importantly, tough sanctions that will cripple the Kremlin's economy.
Instead, the Obama White House has announced sanctions on seven Russians and four Ukrainians and hasn't announced any more since. That's 11 people, even by Common Core standards. Russia's stock market even rose after the "sanctions" were levied! 
We need more of Ludacris and less of Steve Urkel.
Heck, at this point, I'd rather see Luda giving the press conference on all things Russia. At least the dude has no problem being aggressive.
Stay in the loop on killer content,
exclusive videos, and much more!
Trending Now on Daily Surge