Valerie Jarrett: Funny or Die Overwhelmingly Successful
http://youtu.be/a-6-_etG8Pg?t=4m20s
On "CBS This Morning," Obama's senior White House advisor Valerie Jarrett said about Obama's appearance on Funny or Die " it so far has been overwhelmingly successful." "I was checking how many hits were on the site last night when I went to bed. It was 10 million, which I'm sure breaks all kinds of records. But also, more importantly than that, the traffic on our website has gone up 40 percent between yesterday and today, and that was the goal. The goal is to help reach that young audience and Zach and the guys at Funny or Die, they have huge followings. Every young person I know watches their videos on YouTube, and so how do we reach them in a way that was amusing and entertaining but yet informative? And the fact that the website traffic has gone up is really an indication that it's working," Jarrett said.
But if increasing traffic on healthcare.gov is the White House's goal, they are defining success down. Since October 1, the percentage of young adults who have enrolled in insurance through the exchanges remains at 25 percent.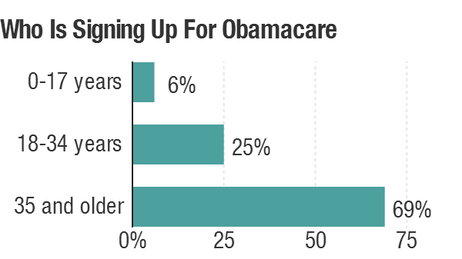 And even if Jarrett is right, and traffic to healthcare.com has increased by 40 percent since Obama's "Funny or Die" bit, there's no way for Jarrett to know if that traffic resulted in new health plan signees, who have picked plans, and payed their premiums. The "paying their premiums" part is specially important since there have been reports of the "Obamacare deadbeats," those people who have signed up for plans but have not actually paid their first month's premiums.
Ultimately, Obama's Presidency has now become a joke. So it makes sense that Obama went on "Funny of Die." But this public show of self-imposed delusion from White House leadership is not funny. It's sad.
Stay in the loop on killer content,
exclusive videos, and much more!
Trending Now on Daily Surge